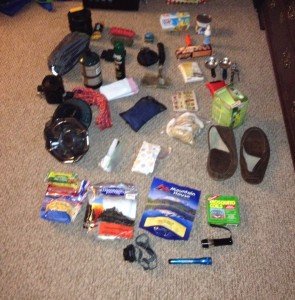 Let's talk camping gear. There are things you need and things you don't. I will leave that up to you to decide. Pictured is the things I had settled on for a trip in 2014. I am it the realm of "not to be inconvenienced" which means carrying a decent amount of things.
Freeze Dried Food

Mosquito Coils

LED Headlamp

MAG Light Flashlight – LED Version


Slippers

Napkins

Plastic Fork, Knife, & Spoon

Propane Single Mantle Lantern

Propane Stove – Colman Single Burner


Propane Bottle

Rope

Sham Wow Towel

Plastic Bags From Grocery Store

Plastic Kitchen Trash Bag

News Paper

First Aid Kit

Can Opener

Measuring Cup

Poncho

Axe / Hatchet – Coleman Hatchet


Fire Ribbon Paste

Water Proof Match Box

Green Foam Hand Soap

Collapsible Backpack

Bug Spray

Ems Air Channel Mattress

Air Mattress Air Pump

2 Titanium Pot Cooking Gear

Beer Koozie

Toothpick Box

More Rope

Canned Pineapple Chunks
This is about half of the things I bring. Some think it's a bit much, but it's nice to have a bit of convenience when out in the woods. A few items I would never do without are the Axe, Ems Air Channel Mattress, and Bug Spray. The Axe is one of those things that once you go camping with one, you won't go again without it. Chopping up campsite wood gets you a better fire, as most camp site wood is newer and tends to be a little damp. Plus it doubles as a hammer for pounding in tent stakes.
Being prepared for anything is a great motto, but when you are motocamping there is a limit on space and weight. At some point I would like to upgrade my propane stove to something a bit smaller. However, I would still need to carry the propane tank to use my lantern. I used to use a cheap twin-size blowup mattress, but it weighed a good 5 lbs and took up a good amount of space. Once I switched over to the Ems Air Channel Mattress, it was like night and day. Weighed less than a pound, took up a quarter of the space. Making good gear decisions will help to give you a great MotoCamp experience!